Total Rating 8
---
REQUIREMENTS:
Windows 95, Windows 98, Windows 2000, or Windows ME (Windows NT is not supported).
300 MHz Intel Pentium MMX or AMD K6 processor, or 200 MHz MMX processor with supported Direct3D video card.
64 MB RAM. 4x CD-ROM/DVD-ROM drive. 650 MB free hard disk space
8 MB video card with DirectX 8 compatible driver; 3D Accelerated Mode requires a 16 MB Direct3D capable video card using the nVidia GeForce 2, nVidia GeForce 256, nVidia Riva TNT2, nVidia Riva TNT, ATI Radeon, 3dfx Voodoo5, 3dfx Voodoo3, 3dfx Voodoo Banshee, Matrox MGA-G450, or Matrox MGA-G400 chipset.
DirectX 8 compatible sound card.
Windows Media Player 6.0 or higher (not on CD; available at www.microsoft.com).
---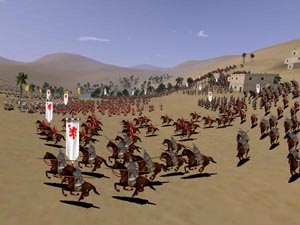 Medieval Total War is everything the title suggests. The game takes place during the dark time of the 11th and 12th centuries. Here you can choose from 12 different empires to control in 3 different starting points. So it has plently of replay value. It is packed full of different types of units. Archers, swordsmen, Heavy Knights, spys, diplomats, princes & medieval cannons to name just a few. The battles can be played in real time or fast play (letting the AI do the fighting for you). But the real play is the real time battles. Here you can use real tatics to defeat your enemies with up to 10,000 units on the map at once. Sounds good, huh. Well, the only down side is the demand it makes on your system. We tested it on an 800mhz PIII system. The graphics looked good till our army moved. Then the computer bogged down to a jerky crawl. The other system we used was a 1700mhz PIV. Here it ran wonderful. Hopefully the patch that is soon to come out will fix the problems for the low end systems.