Total Rating 8.2
---
REQUIREMENTS:
Operating System: WIN 98/ME/2000/XP
CPU: Pentium III or AMD Athlon 733MHz processor (*Pentium® or AMD 1.0 GHz or greater RECOMMENDED)
Memory: 128 MB RAM (256 MB RAM or greater RECOMMENDED)
Hard Disk Space: 3 GB
CD ROM or CD/DVD ROM: 8X
Audio System: Windows® compatible sound card (*Sound Blaster® Audigy(tm) series sound card RECOMMENDED) (NVIDIA® nForce™ or other motherboards/soundcards containing the Dolby® Digital Interactive Content Encoder required for Dolby Digital audio. Also RECOMMENDED)
Video System: 3D Accelerator card with 16 MB VRAM (*32-128 MB VRAM RECOMMENDED) 16 MB TNT2-class DirectX® version 6 compliant video card. (*NVIDIA GeForce 2/ATI Radeon RECOMMENDED) DirectX® version 8.1 (Included on game disc)
Multiplayer: Internet (TCP/IP) and LAN (TCP/IP) play supported. *Internet play requires a 33.6 Kbps or faster modem
---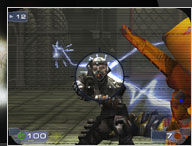 Well some time has passed since Liandri Corporation first began the Tournaments, but this is not just a remake of an old game. Unreal Tournament 2003 takes place 70 years later from our last visit and this time an alien race has invaided the earth. Once again the games are established and the fun begins.With a highly improved graphics engine this game really takes off. Many different enviroments are available to play in with new weapons to frag away with. In game voice messages are available as we have seen in Return to Castle Wolfenstein. And once you get used to what the corrensponding numbers are it is not hard to relay a message. Of course most of us use Roger Wilco or some other form of voice chat so perhaps this feature will be pushed to the way side. The game play in smooth and the textures are truly awsome. One map with a small pond; the water would ripple and reflect the surrounding countryside. One new feature is the adrenaline power up. With this feature it is possible to perform special moves during combat. Of course a match can be won without ever pulling off one of these moves. More of a bonus effect than anything else.The only down side is the system requirements. If your system is not close to top notch you may feel cheated but if you got the tools then you will be awarded with fast paced, exsplosive experiance. This one will problaly be replacing Q4 on most machines.Click image to order now.